Where is the Leatherworking Trainer in Dazar'alor?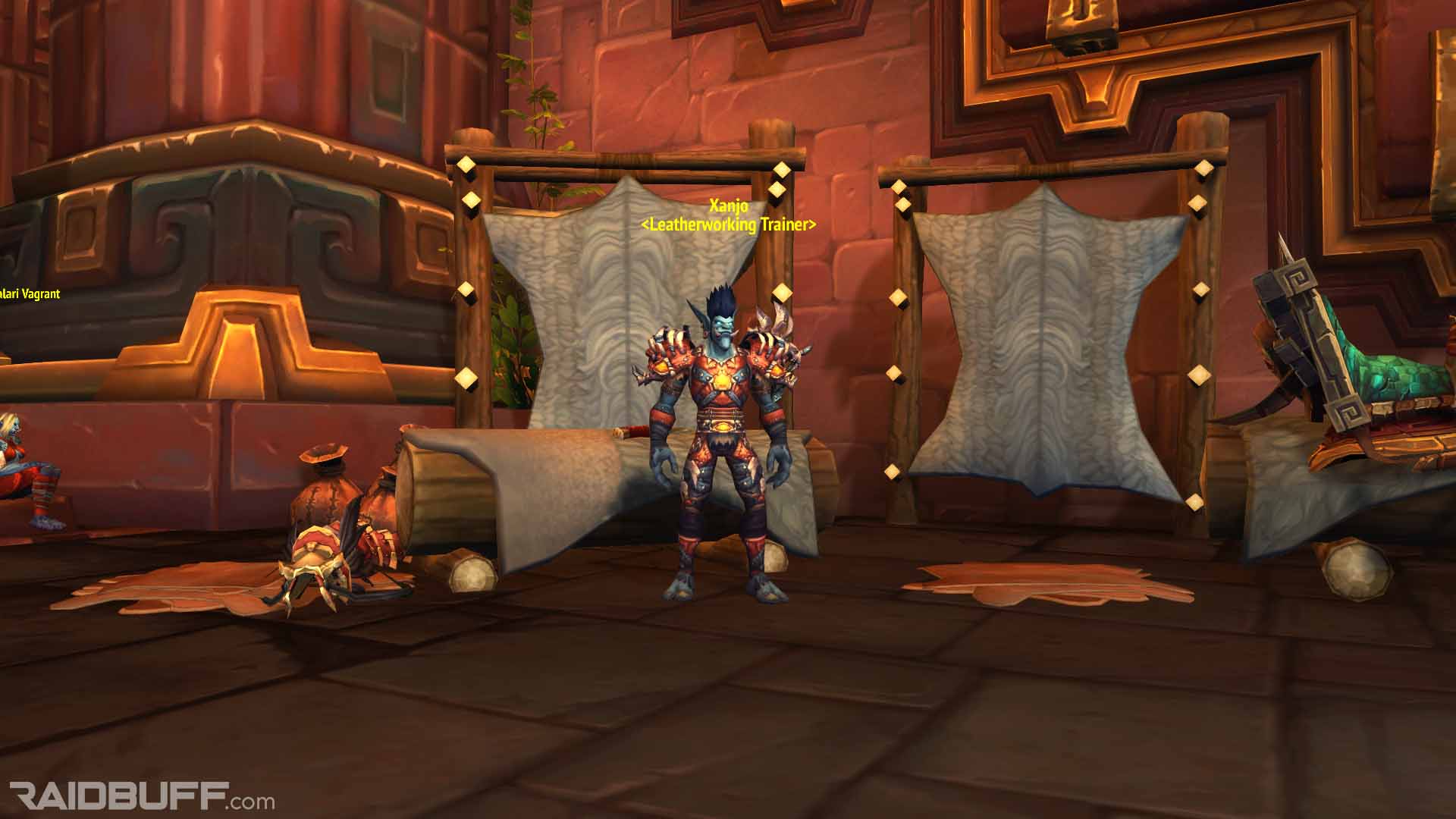 Leatherworking is always a great profession to have if you're a Druid, Demon Hunter, Rogue, or Monk so you can craft yourself some armor. It can also be a super lucrative profession because so many classes wear Leather armor. When you first arrive in Dazar'alor, one of the first stops you'll likely want to make is to pick up Battle for Azeroth Leatherworking. You might find yourself wondering though, where is the Battle for Azeroth Leatherworking Trainer in Dazar'alor?
The Zandalari Leatherworking Trainer, Xanjo, is located at 44.06, 34.61 within the Terrace of Crafters in Dazar'alor. He is on the side of the flight of stairs that go down to the Terrace of Crafters from the Great Seal, surrounded by skins and leatherworking supplies.
Kul Tiran Leatherworking Recipes
Xanjo will train you in the following Zandalari Leatherworking crafts.
| Recipe | Skill Level | Price |
| --- | --- | --- |
| Leatherworking | 0 | 8c |
| Zandalari Leatherworking | 1 | 42g50s |
| Hydrocore | 1 | 21g25s |
| Coarse Leather Cestus | 1 | 21g25s |
| Coarse Leather Greaves | 1 | 21g25s |
| Coarse Leather Treads | 1 | 21g25s |
| Coarse Leather Waistguard | 1 | 21g25s |
| Sanguicell | 1 | 21g25s |
| Shimmerscale Greaves | 1 | 21g25s |
| Shimmerscale Striker | 1 | 21g25s |
| Shimmerscale Treads | 1 | 21g25s |
| Shimmerscale Waistguard | 1 | 21g25s |
| Coarse Leather Helm | 25 | 23g 80s |
| Coarse Leather Pauldrons | 25 | 23g 80s |
| Coarse Leather Vest | 25 | 23g 80s |
| Shimmerscale Helm | 25 | 23g 80s |
| Shimmerscale Pauldrons | 25 | 23g 80s |
| Shimmerscale Vest | 25 | 23g 80s |
| Coarse Leather Barding (Rank 1) | 50 | 25g50s |
| Hardened Tempest Hide | 50 | 25g50s |
| Shimmerscale Diving Helmet | 50 | 25g50s |
| Shimmerscale Diving Suit | 50 | 25g50s |
| Amber Rallying Horn | 75 | 27g62s50c |
| Drum of the Maelstorm | 75 | 27g62s50c |
| Tempest Hide Pouch | 75 | 27g62s50c |
| Coarse Leather Barding (Rank 2) | 85 | 29g75s |
| Hardened Tempest Knuckles (Rank 1) | 85 | 29g75s |
| Honorable Combatant's Bow | 85 | 29g75s |
| Honorable Combatant's Leather Armguards | 85 | 29g75s |
| Honorable Combatant's Leather Gauntlets | 85 | 29g75s |
| Honorable Combatant's Leather Greaves | 85 | 29g75s |
| Honorable Combatant's Leather Treads | 85 | 29g75s |
| Honorable Combatant's Leather Waistguard | 85 | 29g75s |
| Honorable Combatant's Leather Mail Armguards | 85 | 29g75s |
| Honorable Combatant's Leather Mail Gauntlets | 85 | 29g75s |
| Honorable Combatant's Leather Mail Greaves | 85 | 29g75s |
| Honorable Combatant's Leather Mail Treads | 85 | 29g75s |
| Honorable Combatant's Leather Mail Waistguard | 85 | 29g75s |
| Mistscale Knuckles (Rank 1) | 85 | 29g75s |
| Recurve Bow of the Strands (Rank 1) | 85 | 29g75s |
| Scarlet Herring Lure | 85 | 29g75s |
| Hardened Tempest Boots | 115 | 34g |
| Hardened Tempest Leggings | 115 | 34g |
| Mistscale Boots | 115 | 34g |
| Mistscale Leggings | 115 | 34g |
| Sinister Combatant's Bow | 115 | 34g |
| Sinister Combatant's Leather Armguards | 115 | 34g |
| Sinister Combatant's Leather Gauntlets | 115 | 34g |
| Sinister Combatant's Leather Leggings | 115 | 34g |
| Sinister Combatant's Leather Treads | 115 | 34g |
| Sinister Combatant's Leather Waistguard | 115 | 34g |
| Sinister Combatant's Mail Armguards | 115 | 34g |
| Sinister Combatant's Mail Gauntlets | 115 | 34g |
| Sinister Combatant's Mail Leggings | 115 | 34g |
| Sinister Combatant's Mail Treads | 115 | 34g |
| Sinister Combatant's Mail Waistguard | 115 | 34g |
| Enhanced Mistscale Boots | 120 | 38g25g |
| Enhanced Mistscale Greaves | 120 | 38g25g |
| Enhanced Tempest Boots | 120 | 38g25g |
| Enhanced Tempest Leggings | 120 | 38g25g |
| Hardened Tempest Knuckles (Rank 2) | 100 | 42g50s |
| Mistscale Knuckles (Rank 2) | 100 | 42g50s |
| Recurve Bow of the Strands (Rank 2) | 100 | 42g50s |
| Uncanny Combatant's Bow | 170 | 85g |
| Uncanny Combatant's Leather Armguards | 170 | 85g |
| Uncanny Combatant's Leather Gauntlets | 170 | 85g |
| Uncanny Combatant's Leather Leggings | 170 | 85g |
| Uncanny Combatant's Leather Treads | 170 | 85g |
| Uncanny Combatant's Leather Waistguard | 170 | 85g |
| Uncanny Combatant's Mail Armguards | 170 | 85g |
| Uncanny Combatant's Mail Gauntlets | 170 | 85g |
| Uncanny Combatant's Mail Leggings | 170 | 85g |
| Uncanny Combatant's Mail Treads | 170 | 85g |
| Uncanny Combatant's Mail Waistguard | 170 | 85g |