Where Is the Jewelcrafting Trainer In Boralus?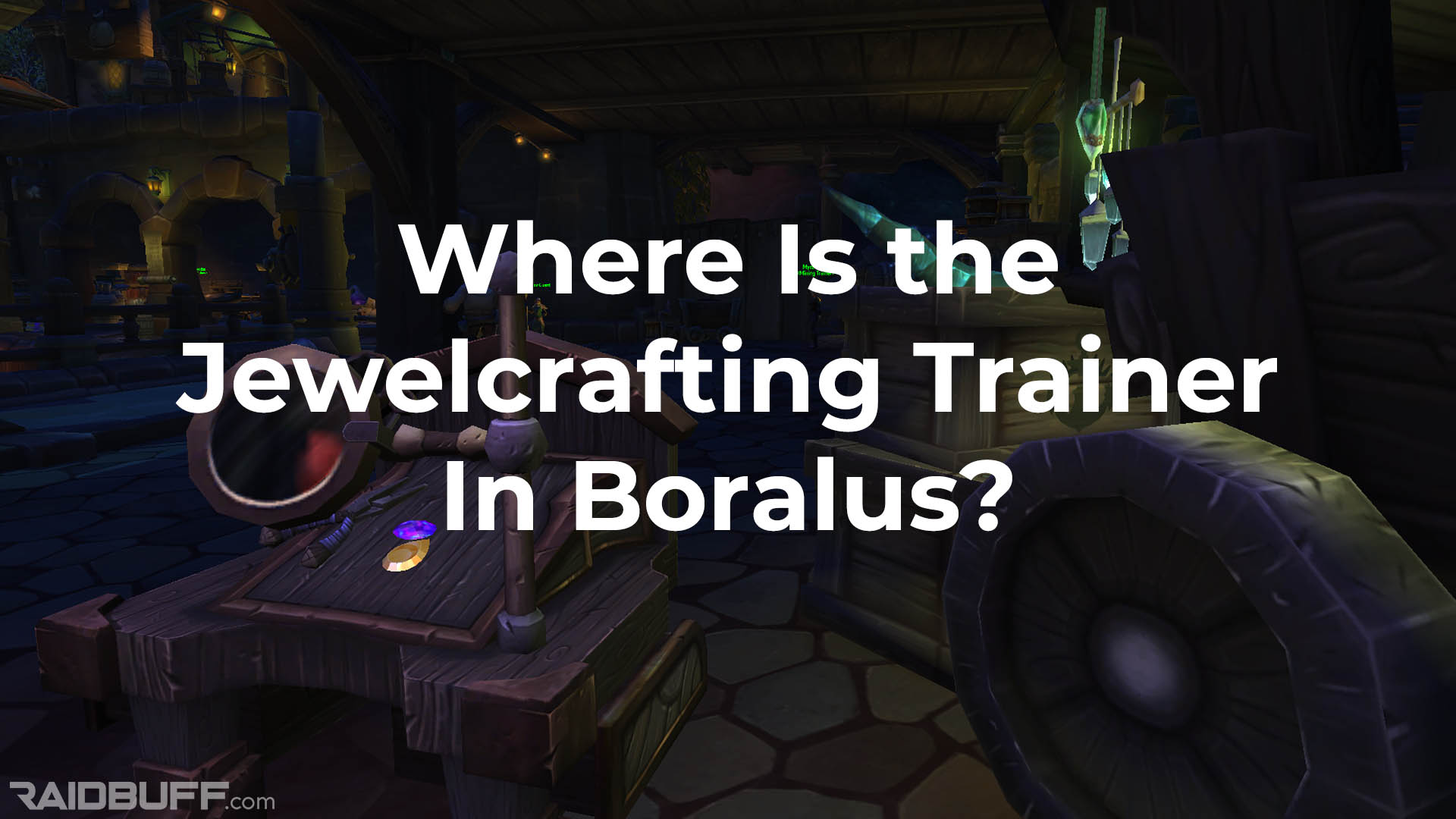 Jewelcrafting can be a lucrative profession because every player needs gems for their gear. At peak raid times, cut gems will fly off of the auction house, putting gold in your pockets. Because of this, if your character is a Jewelcrafter, you'll want to make sure you have all of the Jewelcrafting recipes. Once you get to Boralus, your first thought might be, "Where is the Jewelcrafting trainer?"
You will find Samuel D. Colton III, the Kul Tiran Jewelcrafting Trainer, in the Tradewinds Market at the coordinates 75.19, 9.88 in Boralus. Samuel will teach you Battle for Azeroth Jewelcrafting recipes.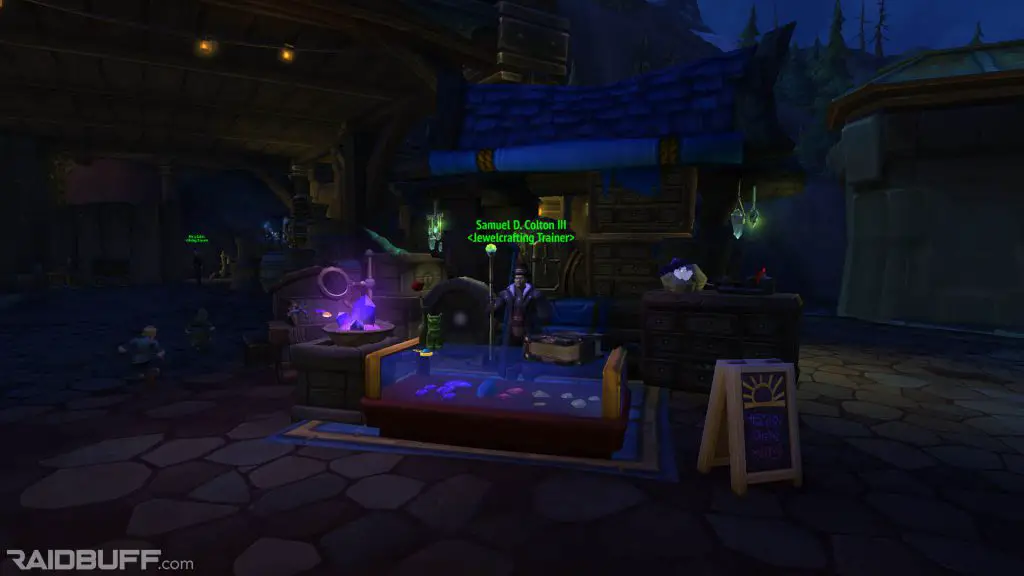 Kul Tiran Jewelcrafting Recipes
The dapper gentleman Samuel D. Colton III will teach you Kul Tiran Jewelcrafting and recipes to cut gems, prospect ore, and create gear.
| | | |
| --- | --- | --- |
| Jewelcrafting Recipe | Skill | Price |
| Jewelcrafting | 0 | 10c |
| Kul Tiran Jewelcrafting | 1 | 50g |
| Hydrocore | 1 | 25g |
| Deadly Solstone | 1 | 25g |
| Golden Beryl Ring | 1 | 25g |
| Kubiline Ring | 1 | 25g |
| Kyanite Ring | 1 | 25g |
| Masterful Kubiline | 1 | 25g |
| Quick Golden Beryl | 1 | 25g |
| Sanguicell | 1 | 25g |
| Solstone Ring | 1 | 25g |
| Versatile Kyanite | 1 | 25g |
| Rubellite Staff of Intuition | 25 | 28g |
| Viridium Staff of Alacrity | 25 | 28g |
| Amberblaze Loop (Rank 1) | 50 | 30g |
| Owlseye Loop (Rank 1) | 50 | 30g |
| Royal Quartz Loop (Rank 1) | 50 | 30g |
| Tidal Amethyst Loop (Rank 1) | 50 | 30g |
| Deadly Amberblaze | 75 | 35g |
| Kaleidoscopic Lens | 75 | 35g |
| Monelite Ore (Mass Prospecting) | 75 | 35g |
| Platinum Ore (Mass Prospecting) | 75 | 35g |
| Storm Silver Ore (Mass Prospecting) | 75 | 35g |
| Masterful Tidal Amethyst | 75 | 35g |
| Quick Owlseye | 75 | 35g |
| Versatile Royal Quartz | 75 | 35g |
| Amberblaze Loop (Rank 2) | 85 | 40g |
| Owlseye Loop (Rank 2) | 85 | 40g |
| Royal Quartz Loop (Rank 2) | 85 | 40g |
| Tidal Amethyst Loop (Rank 2) | 85 | 40g |
| Honorable Combatant's Intuitive Staff | 105 | 42g50s |
| Laribole Staff of Alacrity | 105 | 42g50s |
| Scarlet Diamond Staff of Intuition | 105 | 42g50s |
| Sinister Combatant's Intuitive Staff | 115 | 45g |
| Kraken's Eye of Agility | 125 | 50g |
| Kraken's Eye of Intellect | 125 | 50g |
| Kraken's Eye of Strength | 125 | 50g |
| Laribole Staff of Alacrity (Rank 2) | 125 | 55g |
| Scarlet Diamond Staff of Intuition (Rank 2) | 125 | 55g |
| Kraken's Eye Loop | 130 | 65g |
| Tidal Kraken's Eye Loop | 135 | 70g |
| Uncanny Combatant's Intuitive Staff | 170 | 100g |