Shadowlands Release Date Announced! October 27th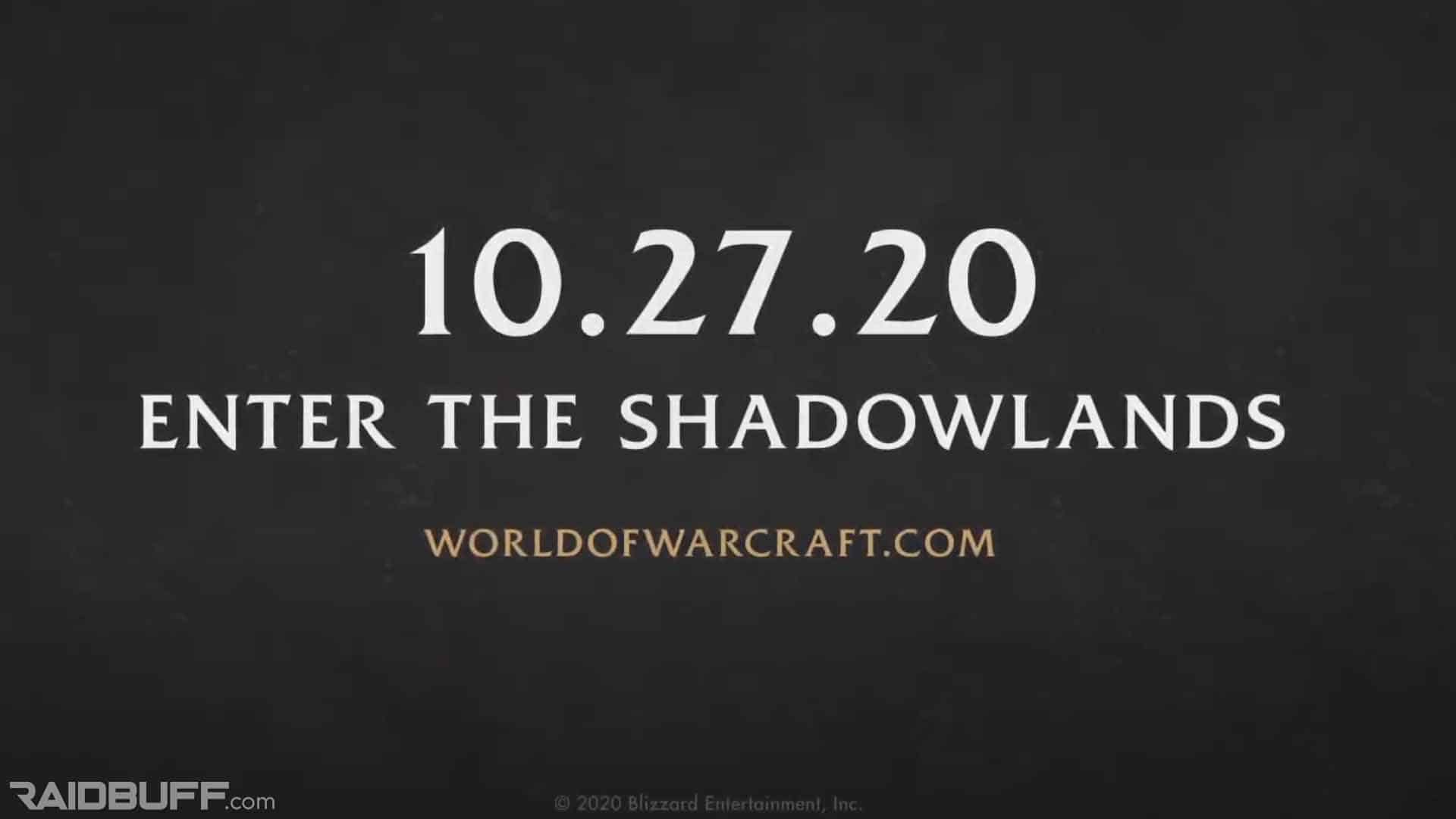 During Gamescom today following the release of the first of the Afterlives animated shorts featuring Uther in Bastion, a release date was finally announced for World of Warcraft: Shadowlands! Shadowlands will be released on October 27th!
This will be another global launch where it releases the same time around the world. The release date for the NA region is actually the 26th of October, as shown in the blue post below that was posted following the video being shown live at Gamescom.
Beyond Azeroth's shattered sky, a realm of infinite afterlives awaits: the Shadowlands, where mortal souls go to reckon with their pasts, discover new purpose . . . or suffer an eternity of torment. Seize your destiny beginning October 26.

Upon entering the Shadowlands, Azeroth's champions will encounter an otherworld in disarray. Virtuous souls are being wrongfully cast into the eternal darkness of the Maw, while the Covenants—powerful factions who hold dominion over the afterlife's disparate realms—face ruin and strife as the flow of the Shadowlands' essential anima mysteriously dwindles. As an ancient, long-bound evil gathers the strength to break its chains, players must carve their path through the uncharted reaches of the beyond, forge a pact with the Covenant that most aligns with their own principles and purpose—and ultimately restore balance to the hereafter.

JOIN THE GLOBAL LAUNCH

World of Warcraft's next expansion will launch in the Americas, Europe, Taiwan, Korea, and Australia/New Zealand at the same time. Wherever you live and whatever path you choose to take, you can be part of one global adventure beyond the shattered sky.

Check the details below for the exact time you can begin playing and begin your journey into the Shadowlands.

Americas (PDT)

Europe (CET)

Taiwan (CST)

Korea (KST)

ANZ (AEST)

UTC

4:00p.m.

October 26*

12:00a.m.

October 27

7:00a.m.

October 27

8:00a.m.

October 27

10:00a.m.

October 27

11:00 p.m.

October 26

---

PRE-PURCHASE NOW

Shadowlands is now available for purchase in three digital editions: Base, Heroic, and Epic.

Base edition Contents

The complete Shadowlands experience.

Heroic Edition Contents

The complete Shadowlands experience.
Shadowlands-level character boost, available on pre-purchase.
Ensorcelled Everwyrm Mount, which grants access to a questline that awards the Vestments of the Eternal Traveler transmogrification set.

Epic Edition Contents

All content from the Heroic Edition
Anima Wyrmling pet
Wraithchill cosmetic weapon effect
Eternal Traveler's Hearthstone
30 Days of game time

All bonuses from the Heroic and Epic Editions are unlocked immediately upon pre-purchase.

Begin your path into World of Warcraft's eighth expansion by pre-purchasing Shadowlands now! For more information on World of Warcraft: Shadowlands, visit the official site.

 

*To align with other regions, the Americas will launch slightly ahead of October 27 in local time.